Easy To Use

We didn't just want to make yet another audio recorder for the Mac - we wanted to make one that is beautiful and easy to use. And we think we did a great job on that. Kvlt can be used by anyone who knows that a red circle means "record".

Wide File Format Support

Kvlt supports the most common file formats like .wav, .aiff, .m4a, .aac, .m4r and mp3. But we're constantly working to include support for more formats like .ogg and .snd.

Native 64bit

Kvlt was developed with 64bit in mind. Because we don't have to support legacy 32bit architectures we can offer features like unlimited recording time and support for files that are larger than 4GB.

More Features

Kvlt is not just a simple audio recorder. It offers features like iPhone ringtone export or real time spectral analysis.
About Kvlt
What is Kvlt
Kvlt is probably the most beautiful audio recorder for Mac OS X. It is also the easiest to use. With Kvlt you can record your voice, live music or your vinyls and you don't have to care about details like sampling rate or bit rate. Kvlt always records in high quality and all you need to do is press the record button.
But Kvlt is not only the application. Kvlt is also superb support. We think good and fast support is as important as an awesome product. Thus we do our best to provide high class support. (We even referred "would be" customers to our competition when this solved their problem!)
Why we made Kvlt
For our work we often need small sound snippets. Sadly there are no simple and usable audio recorders for the Mac. You had to use full blown "digital audio workstation"-software - which is overkill. It takes time to learn these complicated products. It takes time to start up that software. And the editing itself takes time too.
So we made Kvlt. It's simple to use yet powerful enough to produce high quality sounds. And it's blazing fast. Kvlt is the audio recorder that should have been included with OS X but sadly was omitted.
The design behind Kvlt
There are some audio recorders out there for the Mac. But they are no fun to look at. They might work but working with them doesn't feel right. So we spent a considerable amount of time on Kvlt's user interface. It had not only to be highly usable - it also had to look awesome. And we think our designer Simon did a great job!
The technology behind Kvlt
Some might think writing a sound recorder would be trivial. And if you do it the lazy way and use high level APIs then it is trivial. But doing it the lazy way would mean trade-offs. And we don't like trade-offs. Other than that our design required fancy functionality like a real time scaling waveform and real time spectral analysis. No way you could do that with high level APIs. So our programmer Leon wrote a highly sophisticated audio engine to power Kvlt. The engine is so advanced that it could power a "digital audio workstation" program on its own.
The future of Kvlt
Kvlts advanced audio engine means that we have many options to extend Kvlt. We plan a lot of awesome features (like support for AU audio plugins) for coming versions. So stay tuned ...
Presskit
Bloggers/Journalists might find the press kit interesting. Download it here.
About Us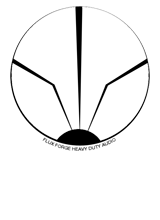 Flux Forge was founded in 2008 as a development studio for Mac OS X and iOS software. We offer custom software development services and make our own products.
Currently Flux Forge is a team of 2 guys obsessed with making great software. We don't compromise on user experience and performance. Our products are either great or they never get released.
Our services include:
Development of complete software products
User Experience and UI design
Code review, bug fixing and updating of existing software
Hire us
Currently we're unavailable for contract work.